Enter the universe of books with Blossom. We have an amazing range of costume ideas for kids and adults to explore!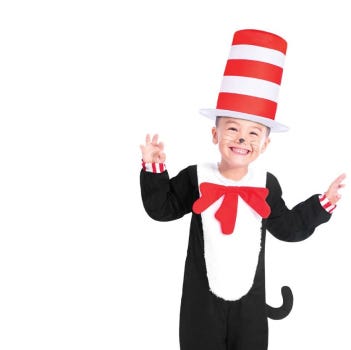 The Children's Book Council of Australia's (CBCA's) Annual Book Week returns! Time to express our CBCA Book Week spirit. This special week is often the highlight of the school year for children, especially young ones in primary schools. It's a week full of excitement, imagination, and of course, amazing Book Week costumes.
If you're a parent, teacher or student looking for fun, prize-worthy or last-minute book week costumes Blossom's online store has just the thing for you!
Our Best Book Week recommendations for 2023
The Book Week Dress-Up Awards are a wonderful opportunity for kids, parents and teachers to show off their creative flair. And, not to brag, we've proudly supplied the winning costumes for a number of school pageants across Australia! If you need a Book Week costume idea for 2023, have a look at what was popular last year.
Shop by Book Week costume themes & characters
While we would never condone cheating, we're quite happy to indulge in a little out-of-the-box thinking. Parents in need of easy Book Week costumes should remember that many of your children's favourite TV characters have books, too, and so technically, are book characters!
Have a gander at our marvellous selection of Book Week themes and characters.
Best Book Week costume ideas for 2023
A plain blue dress isn't a great Alice costume. Old red t-shirts aren't fun Thing 1 and Thing 2 costumes. A rumpled white t-shirt won't turn you into the Wimpy Kid.
If you want the best Book Week costumes this year, you'll need officially licensed, high-quality outfits with every detail precisely in place. Lucky for you, Blossom's online costume store has just what you need!
WHY CHOOSE BLOSSOM FOR YOUR COSTUME NEEDS?
Our range of Book Week costumes are:
Made of high-quality materials that last, meaning you can hand them down
Available in a range of styles and sizes for kids .
Available for secure purchase online to ensure your details are kept safe
Can be easily exchanged (within 30 days of purchase)
We'll also dispatch the same business day if you order before 1 pm AET and have express shipping available. That way, even if your child forgets to tell you about Book Week until the week before, you can still enjoy the festivities.